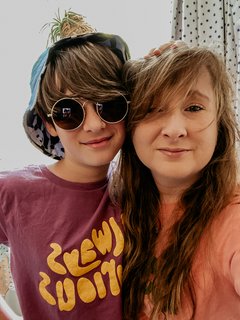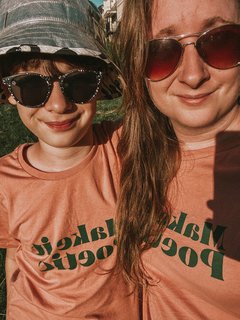 Well, where do we start?
A Curious Society is a small business, based in London, UK, run by a mum and son team, Danielle and Dom!
After years of being involved in kid's fashion, one way or another, we finally decided to take the leap and start our own clothing line.
At 11 years old, Dom is our head designer. Each design is carefully curated in his imagination and together we bring it to life! Dom loves to add a bit of flair to his outfits and, as he has got older, we both noticed that it has become harder and harder to find anything that suited his style! Inspired by all things curious and with a love for fashion, a curious society was born!

The designs relate to Dom's passion for the planet, reading books, museum wanders, animals and social justice. Each one is hand screen printed to order by Dom and Danielle.

Sustainability is so important to us. Dom has been an advocate for the protection of our planet ever since he was little. Whilst in the process of starting this business, he has learnt all about ethical fashion and can give you a list as long as his arm as to why we should shop small and pay a fair wage whilst also sustaining our planet and reducing our carbon footprint.


We do absolutely everything ourselves here at a curious society! We want to thank you so much for every single order, you really mean the world to us and we really do happy dance every time!